Home
The Florida Society for Respiratory Care (FSRC) will continue to be the leading professional association for Respiratory Care in Florida. The FSRC will encourage and promote professional excellence, advance the science and practice of Respiratory Care, and serves as an advocate for patients, their families, the public, the profession, and the Respiratory Therapist
---
Governor DeSantis Honors Respiratory Therapists!
Governor DeSantis issued a proclamation to honor Florida's Respiratory Therapists and recognizing October 24-30 as Respiratory Care Week in Florida!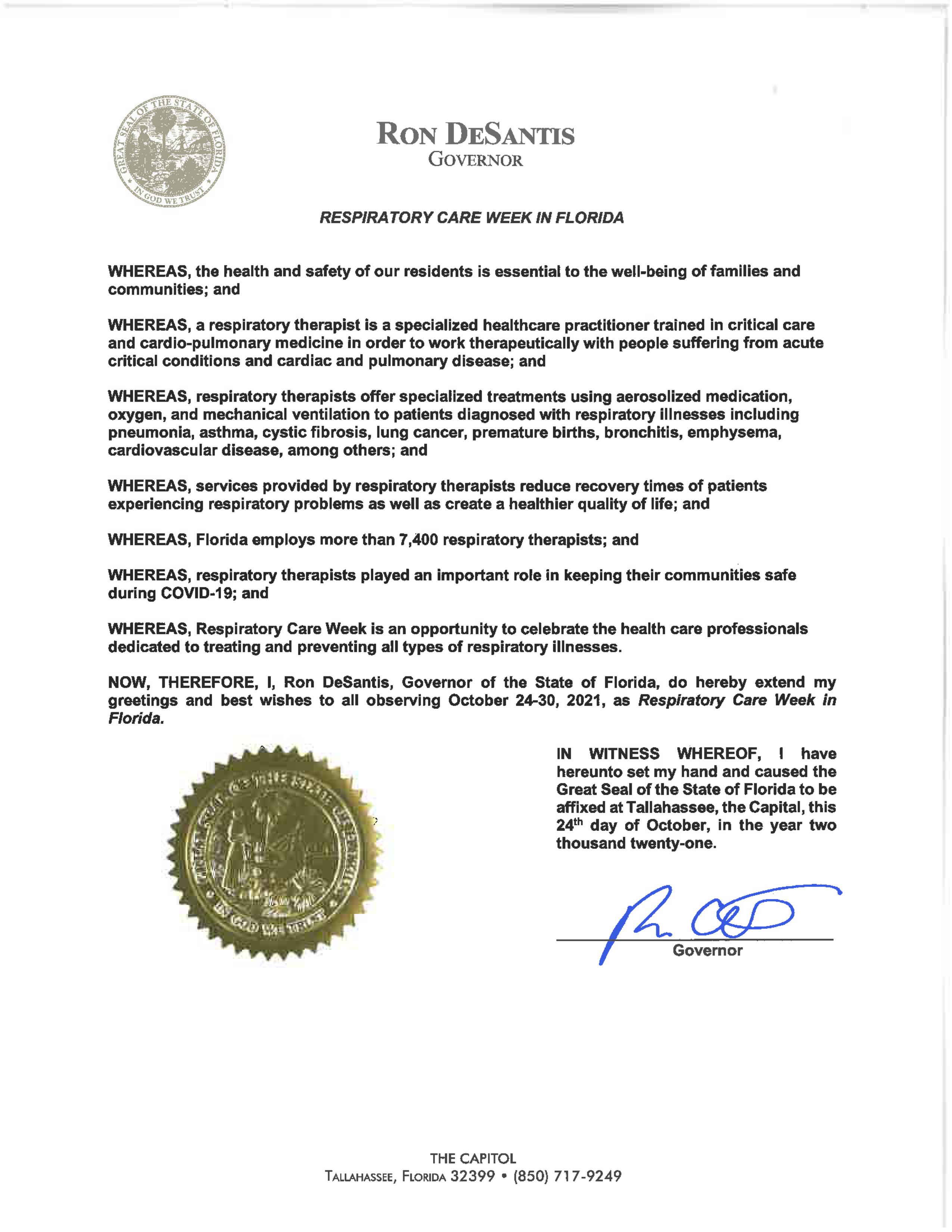 ---
Meetings and Events! 
2022 FSRC Sunshine State Seminar - Register Now!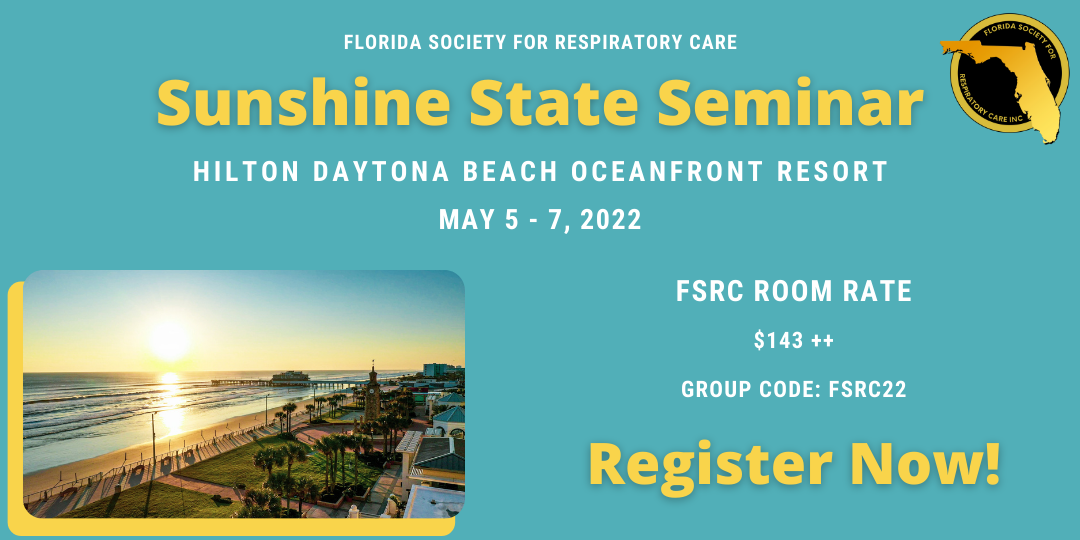 Join us for the 2022 Sunshine State Seminar at the Hilton Daytona Beach Oceanfront Resort! This year's event will be held May 5 - 7, 2022. 
Click here for more information and to register.
Now Available On Demand
Click Here to access this program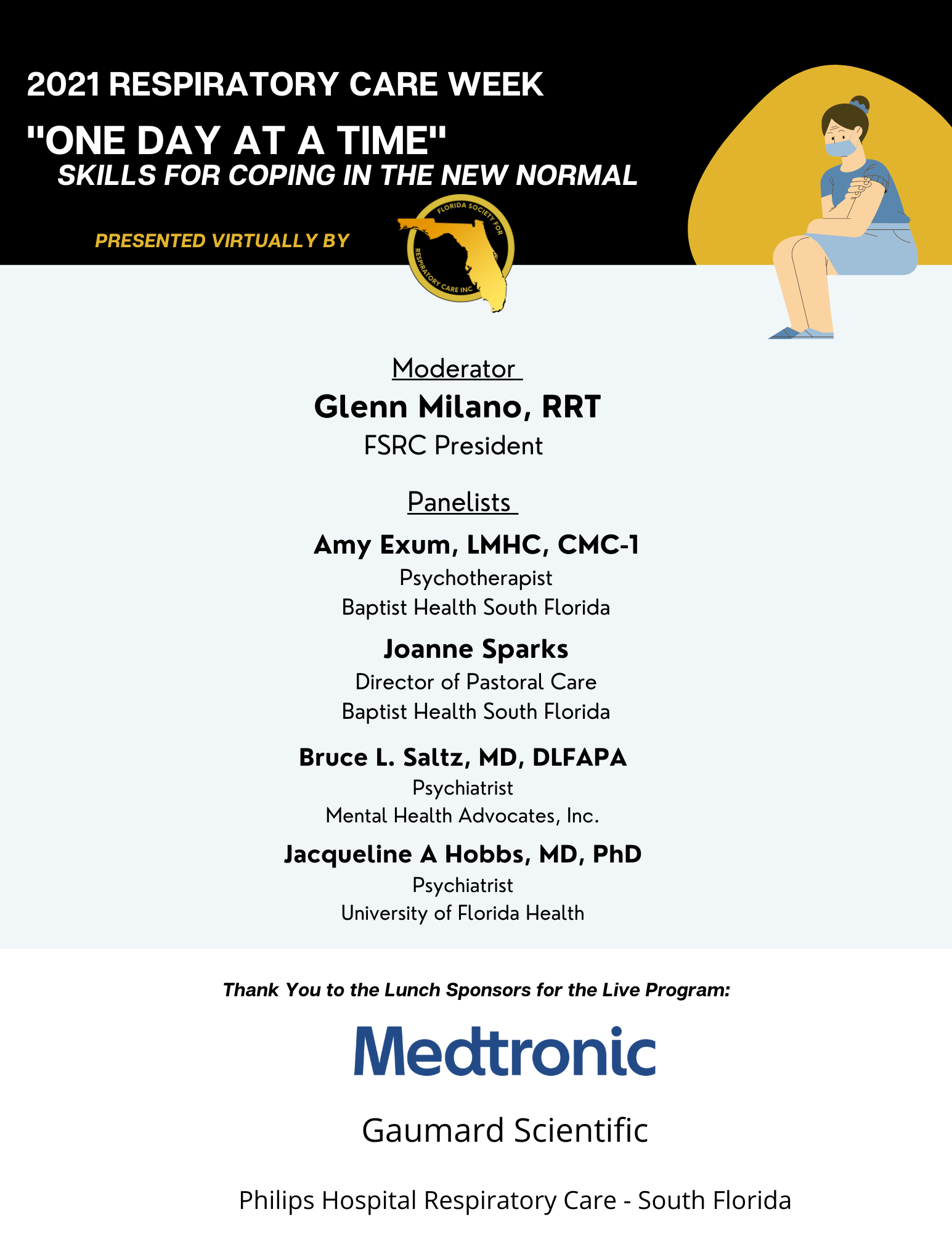 ---
FSRC 101
 
Presentation Description:

An overview of the value provided to respiratory therapists through membership in their professional organizations and description of the role of FSRC officers. Provided by current members of the FSRC Board of Directors.
Complete the evaluation to receive 1 CE credit for this session.
(Please note: If you completed this session as a part of the 2021 Sunshine State Seminar, you do not qualify to receive an additional credit for this session).
Click Here to view the session!
---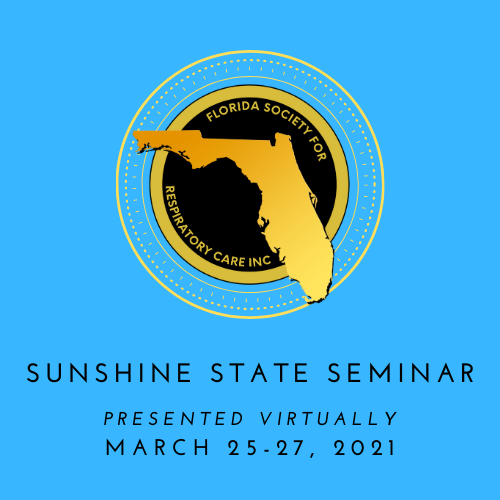 The 2021 Sunshine State Seminar Recorded Sessions Are Available On Demand!
$150 For The Entire  |  $15 Per Session
Earn up to 21 hours in Continuing Education (CE) Credits

CEs auto reported to CE Broker and AARC

View quality education sessions selected specifically for Respiratory Care Practitioners

View the programs on demand at your leisure

Offering mandatory CEUs for Florida Rules and Laws and Medical Errors

Click Here to view the full program
And much more!
Click Here for Additional Information 


-or- 

---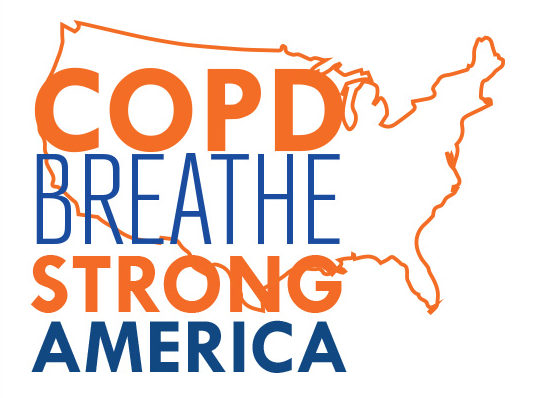 2021 FSRC/Breathe Strong Virtual Patient Advocate Summit
Is Available On Demand!
The Summit held discussions with healthcare professionals, caregivers and chronic lung patients sharing their clinical life strategies for healthy lives and improved self- management. 
PATIENTS

---
Respiratory Therapists Are On The Frontlines

---
Get Involved 
Contact your Region Director and ask about the FSRC Ambassador Program.